To help your international visitors easily navigate through pages in their own languages, you can translate navigation that is specific for each language version of your site. To do this:
1. Choose the language version using the Language selector. For this example, we would like to create navigation for the French version of the site:
2. Hover your cursor over the Navigation area in the header to access Navigation settings:



Alternatively, click on the Navigation icon in the vertical main menu or on the Navigation tab in the upper horizontal menu of the Sitebuilder.
Make the translations of all language-specific items in the navigation.


In Navigation Settings, hover over the page you'd like to rename in the navigation and click Settings. Enter the French page title as you would like it to appear in the navigation: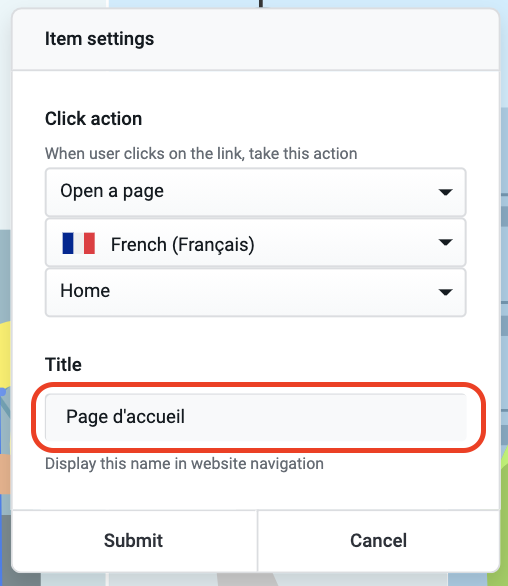 Click Submit.
Repeat these steps for the rest of the menu items: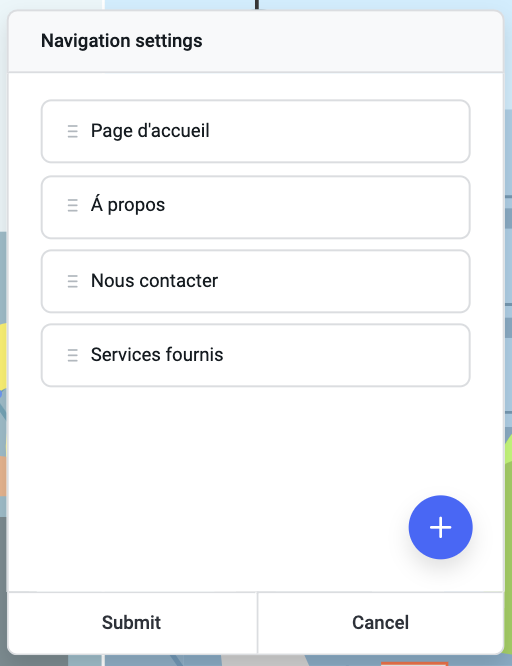 Click Submit.
Your French site version menu should look similar to this:

Make sure to publish your site to make the changes live.
Make the navigation local
If you have a global navigation menu for one language, you can make this navigation local for a particular page in this language. Here's how to proceed:
Go to the page where you want to create page-specific navigation. Hover your cursor over the existing navigation item and right-click.

Click on Convert to local element:

Continue editing the navigation. All changes in navigation will be visible on this page only.
Create a local navigation item
Here's how to create a new language-specific navigation item:
1. Go to your language-specific homepage (for this example, Home-FR) and hover your cursor over the navigation area to activate the Navigation menu.
2. Click on the "stacked pile" icon to activate the Navigation settings menu:

3. To add a new language-specific page to the navigation, click the round + button: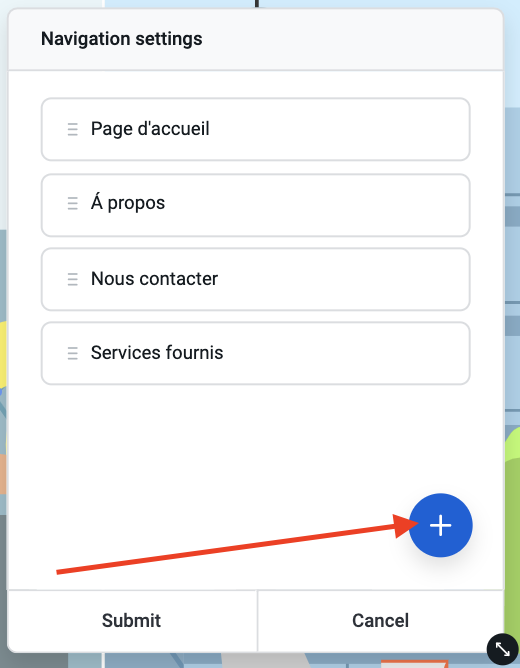 4. In the Item Settings menu, choose the following options from drop-down lists:
Click action > Open page and Language > French.

5. Replace Home-FR with Page d'accueil (Homepage in French):
6. Click Submit.
7. The link to your Home-FR homepage with a title Page d'accueil will appear in the navigation menu.
Repeat these steps for your other pages in this language.

8. Click Save and Publish.
Turning local navigation into the global navigation
You can revert the change and choose to show global navigation on pages where you previously created local navigation.
To do this, hover your cursor over the navigation, and right-click the area. Click the Revert to global element button:

This way, you would enable your global navigation that was there before.
Important: Repeat these steps for each individual page on which you have enabled local navigation.