Blocks in our Sitebuilder are highly customizable. Almost any element can be changed - block background, content alignment, blocks spacing etc. You choose the way your site will look!
This tutorial will walk you through every setting that can be modified in the Block settings menu.
Accessing the Block settings menu
To access the Block settings menu:
Hover over the block. The control pane will appear.



Click on the "gear" icon to access the

Block settings

menu.
Layout
In the Layout section, you can fully switch the block layout or hide some of the block elements. To fully switch the block layout, click the respective button and select a new block content layout.

To hide a specific block element (for example, if you want to remove a button), remove the blue tick next to its name. Do not forget to click Save after all the changes are applied.
Appearance
The Appearance tab is where the fun stuff happens - here you can choose the background color of your block, modify content alignment, turn the background overlay on, and many more! Let's review the features one by one.
Replace image
For blocks with a background image, you can edit or replace it in the respective section: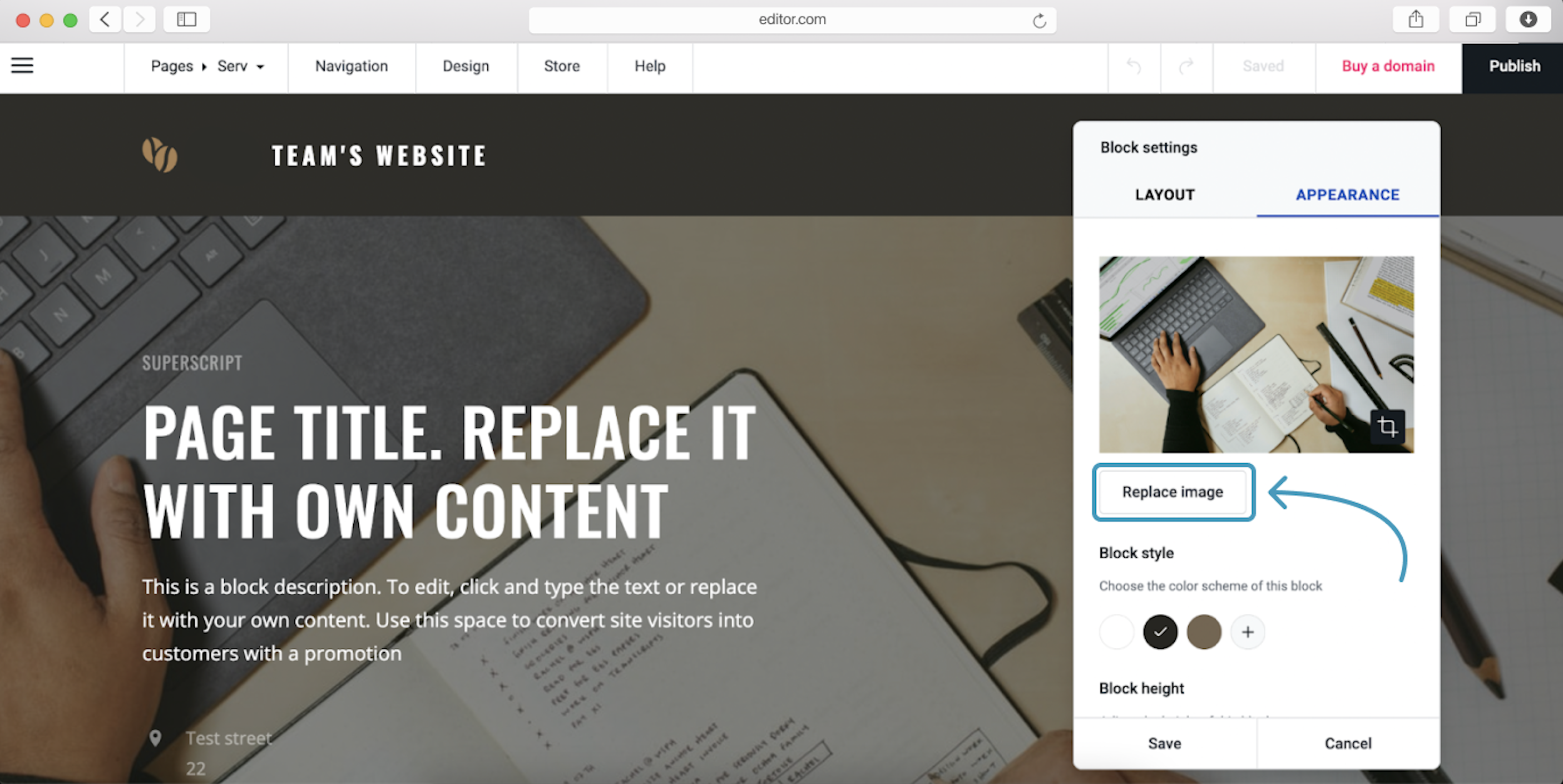 Block style
Choose the color scheme of the block - you will be able to choose the colors from your site's color palette along with black and white:
Block spacing
By adding space between blocks, you can avoid your site feeling cluttered. Ultimately, visitors want to be guided through information effortlessly and whitespace makes this easier for them. Adjust whitespaces of a block - you can change the top indent and the bottom one.
Content layout
Some blocks let you choose the number of items in a row (for example, Gallery block). Choose the option that suits your taste.
Content style
Add a border or add a shadow to make the elements stand out on the page:
Content alignment
You can customize the horizontal and the vertical content alignment of various blocks. This will move content to a side or up/down/center depending on what you choose.
Block height
With some blocks, you can adjust their height by turning Fullscreen on and off.
Background settings
Add B&W filter: check this option to make the block content (images and videos) turn black and white.

Add overlay: check this option to add a semi-transparent overlay to the block background image. You can also adjust the overlay opacity.

Once you are done customizing the block appearance, do not forget to click Save.