Customizing your Contacts block on a mobile is as easy as on a desktop. The Contacts block's default map has a random location added for demo purposes only. You can add a location pin to your Google Maps with a couple of taps on your phone. Read on to find out how to add your own location to the map.
Before you begin
Add a Contacts block with a map to your page:
Tap the

Add a block (+) Plus

button on your canvas.

Tap the Contacts block in the

Block library

to see the layouts available. 

Choose the layout you like to add it to the canvas. 
Customizing your map on a mobile
To add your address to the map, do the following: 
Double-tap the map inside your block to activate its Google Maps Settings icon. 

Tap the map icon to open the Google Maps Settings.





Delete the demo address in the Search field and type in your company's address.  





When the pin appears on the map, click

Submit

. Your address will be updated right away.


Tap the Publish button, which looks like a rocket in the upper right corner of your mobile Sitebuilder, to make the changes live.
Resizing the map on a mobile
To resize the map, tap it to call out the resize control and drag it up or down to your liking. 
You can also make your map fullscreen. To do that, tap the block and tap the Block settings icon. Then, in the Appearance tab, tick the Fullscreen option and tap Save.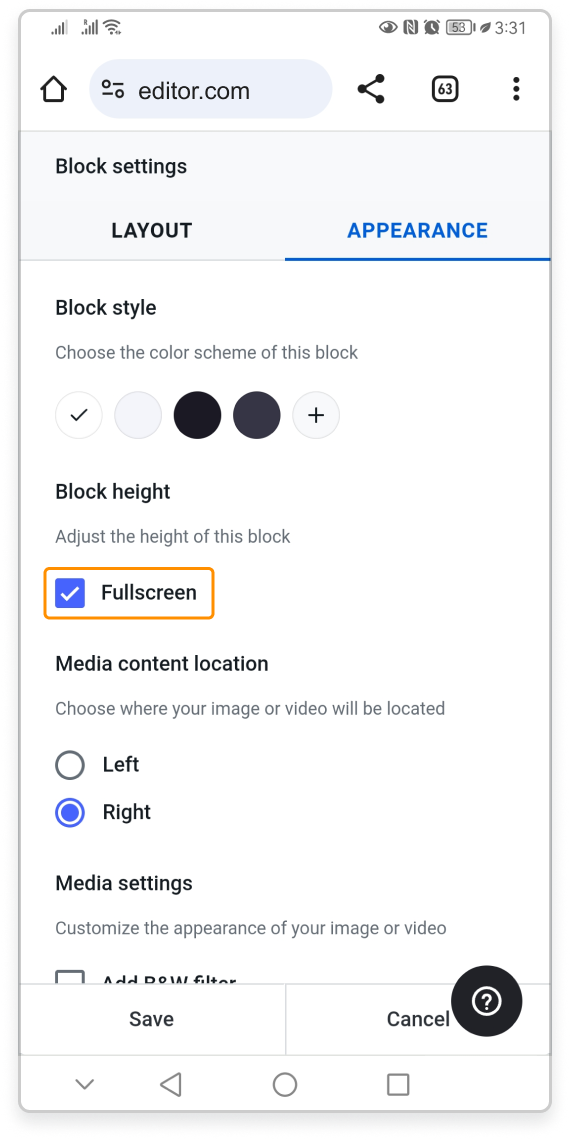 Note: After you enable the Fullscreen feature, the resize control will become unavailable. If you want to be able to resize your map, untick the Fullscreen feature first.