Attaching downloadable files to links is as simple as creating plain links. By clicking a link, your site visitor will have a file downloaded to their computer or opened in a new tab, which is useful for things like application forms, e-books, presentations, price lists, and restaurant menus.
Here's how you can attach a downloadable file to a link:
Highlight the word or phrase you want to turn into a link and click the Link icon on the text control pane.






In the

Link settings

window, choose the click action for the link from the dropdown list.






Click the

Choose a file

button and locate the file you want to attach to this link on your device.




Click

Open

, and it will be uploaded to your site.

You have two options: To let your visitors download the file to their device or open it in a new tab. The

Download on computer

option is ticked by default.

Click the radio button next to the

Open in a new tab

option if you want to change it.

Another optional setting you have here is Set Download URL.

Change the link title in the Title field if needed.

Click

Submit

to confirm the changes. To make them live, click

Publish

in the upper-right corner of the Sitebuilder. 
Changing the downloadable file
You can replace the file you made available for download. Here is how to do it:
Click the link and click the Link icon on the text control pane. 

In the

Link settings

window, click the file name or the

Choose file

button to select another file on your computer. Click

Open

to upload it to your site.

Once the new file is added, click

Submit

and then

Publish

to make the changes live. 
Deleting a downloadable link
To remove a file for download, you can delete the link by clicking the Delete link button in the Link settings window.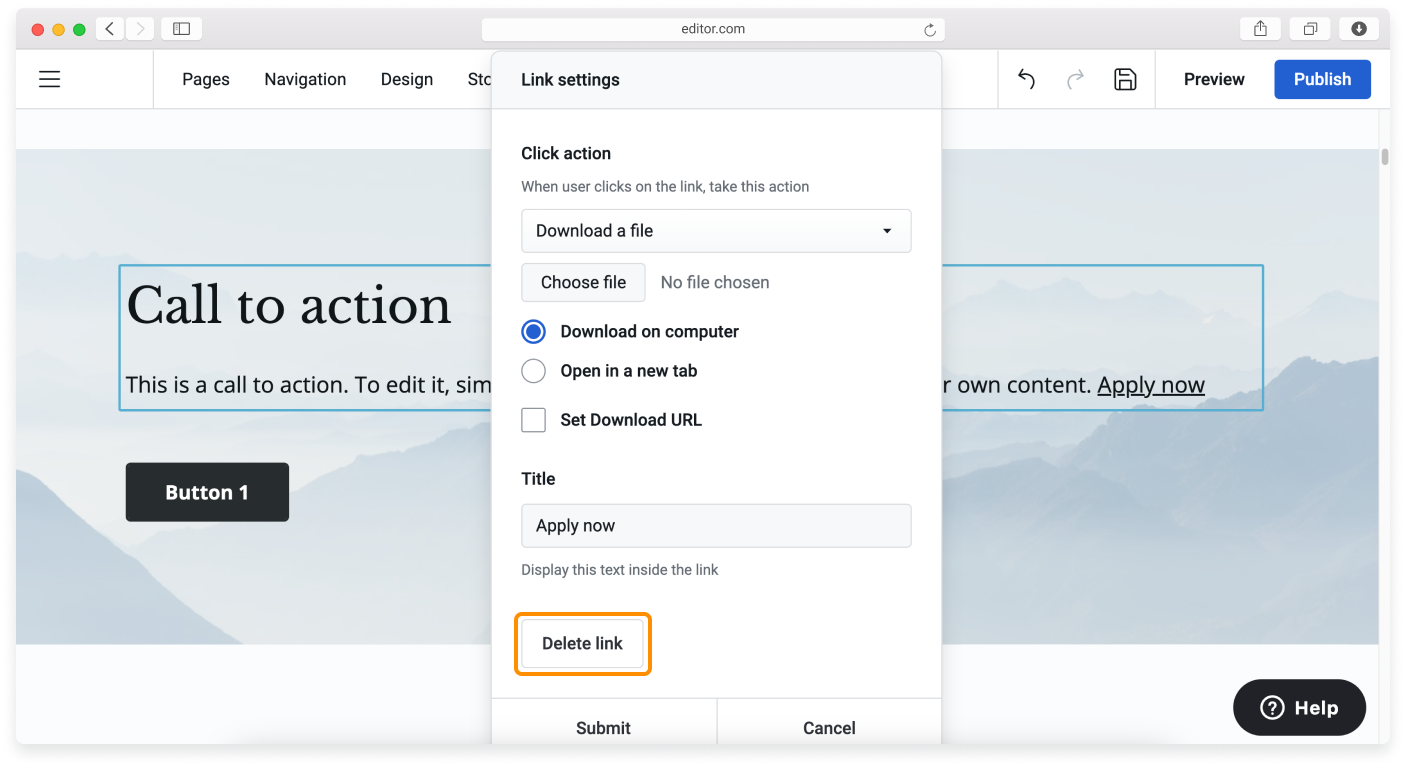 Then Submit and Publish to confirm the link deletion. 
File size and format
The maximum file size you can link depends on your hosting plan. For the Sitebuilser Free subscription plan, the maximum file size is 5 MB. For Sitebuilder Unlimited, it is 100 MB, and for Sitebuilder Premium, it's 250 MB.
A file of any format can be linked in the Sitebuilder. Most often, you will want to link to the following file formats:
Portable Document Format (.pdf)

Microsoft Word (.docx)

JPEG (.jpg)

ZIP archive (.zip)

PNG (.png)

Microsoft PowerPoint (.pptx)