After signing up and choosing the template, you get to the Sitebuilder, where you can edit and customize your website. We recommend you to start with the homepage, as it is the first thing your visitors see when they open your site.
Your homepage should catch your visitors' attention, give them a good idea about the rest of the content on your site, and a clear way to navigate to its content.
This article will help you customize your homepage to the required level.
Finding a homepage in the menu
You can identify your homepage in the list of pages by seeing a house icon next to the page name.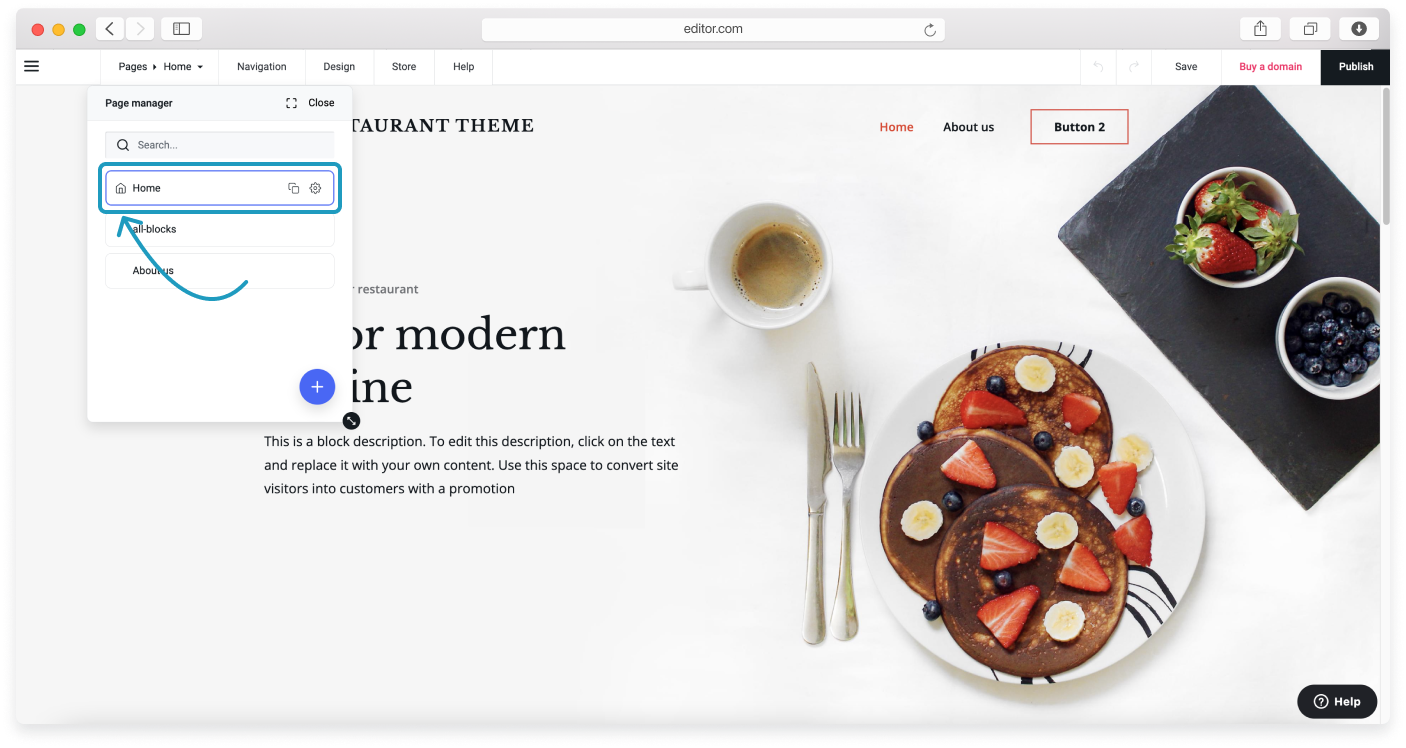 If you want to switch your homepage, click the house icon near the relevant page.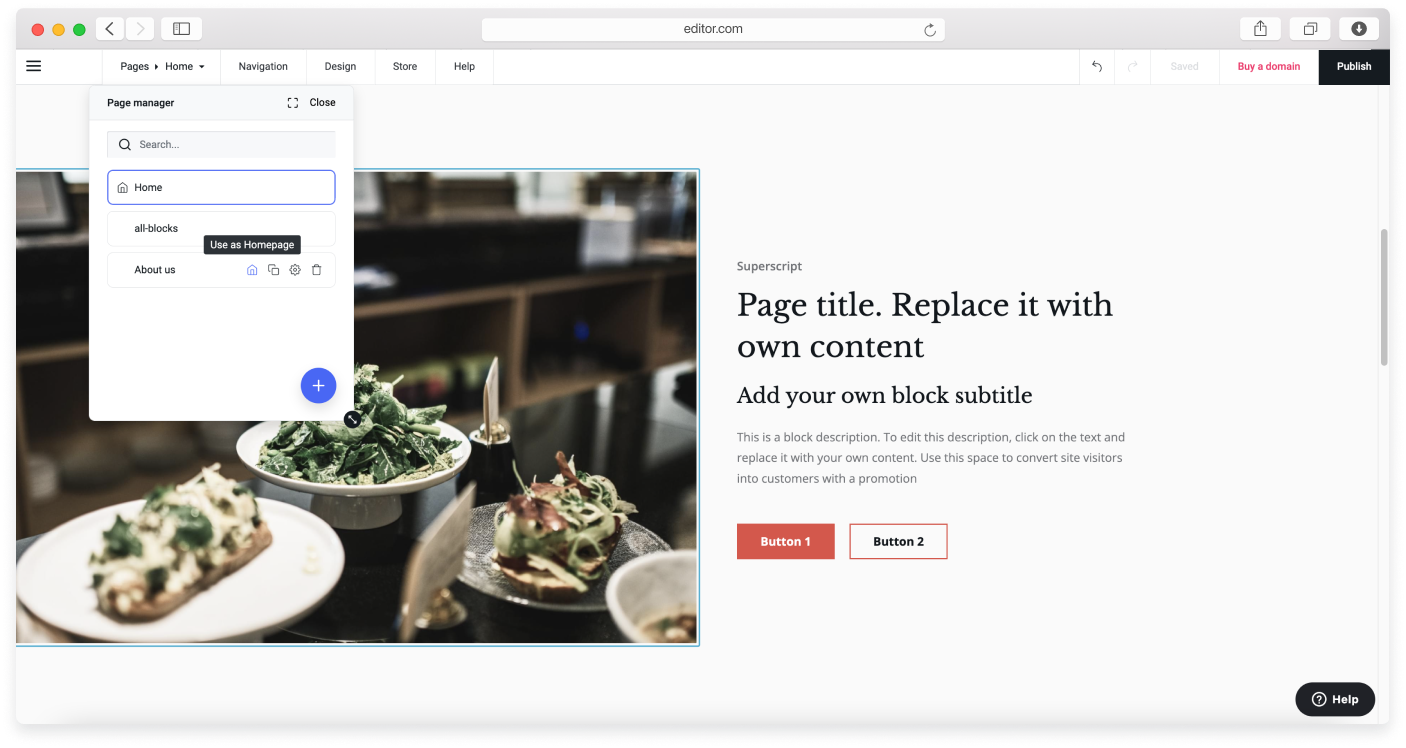 Read about adding a page to your website in our dedicated article Adding a page to navigation.
Editing blocks
You can change your site layout by adding or removing the blocks and their elements.
Start customizing your website by clicking the existing blocks to add text or other content. Hover over the element you want to edit and you will see the dedicated menu.
Read more about setting up your blocks in our article Block settings.
You can also change the background color and background picture of every block. For more information, view the Site structure and design tutorial section.
Editing texts
To add text to the page, click any pre-designed text block and start typing. You can type in the content you want or copy and paste the text from any text editor, such as Microsoft Word and Pages.
While editing, you will notice that a text formatting control bar opens at the top of your page. Use this toolbar to change the text formatting.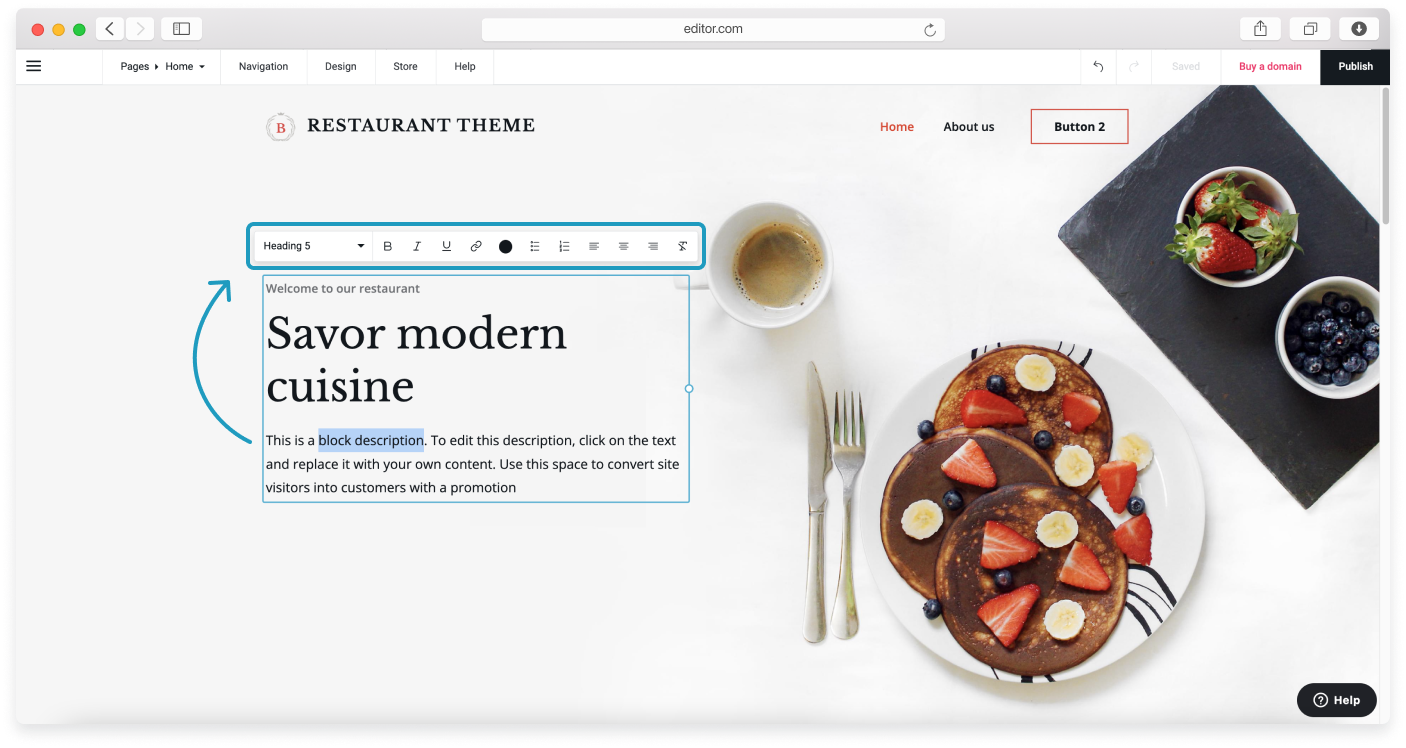 This toolbar allows you to do the following:
Make some text bold, underline, or italicize it.

Type a heading at the top of your text and change the font format.

Create an

ordered or unordered list

.

Change text color.

Align your text.
If you want to customize your fonts and color palettes, read these in-depth tutorials:
Adding images
With images, you have three options:
Continue using the demo images of your template.

Replace demo images with free stock photos using an integrated photostock.

Replace demo images with your own images from your computer.

You can find detailed instructions on doing this in our Adding images tutorial.